REGISTRATION IS CLOSED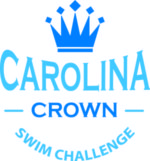 The annual Carolina Crown Swim Challenge will be held on Saturday, April 23, 2022 at the Westside Aquatic Facility in Greenville, South Carolina. This is the seventh Carolina Crown and will feature top 15-18 year-old athletes from North Carolina and South Carolina.
Top 20 ranked NCS male swimmers and the Top 20 ranked NCS female swimmers in ages 15, 16, 17, and 18 based on times achieved between 9/1/21 and 3/20/22 in contested events will be on the qualifier list for North Carolina. From this list North Carolina will select 60 male swimmers and 60 female swimmers based on date of registration and payment. Selection will be on a first come, first served basis, so you are urged to get your registrations in early if you would like to attend. Registration will be closed when the meet reaches capacity. South Carolina will also select 60 male and 60 female participants using the same selection process.
The qualifier list along with athlete registration forms will be posted on or around March 21, 2022.
Selections will be posted on April 4, 2022 or sooner if the meet has reached capacity.
2022 Carolina Crown Psych Sheet
2022 Carolina Crown Meet Announcement
2022 Carolina Crown: Officials Sign-up Form