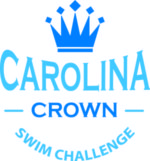 The sixth annual Carolina Crown Swim Challenge will be held on Saturday, April 25, 2020 at the Clover/Lake Wylie YMCA Aquatic Center in Clover, SC. The meet features top 15-18 year-old athletes from North Carolina and South Carolina divided into four teams.
The Carolina Crown is a long course meet with athletes invited to participate based on performance during the 2019-2020 short course season. The names of Automatic Qualifiers and Alternates will be posted on the NCS website after the March 15, 2020 qualifying deadline.
The coaching staff will include six coaches from North Carolina and six coaches from South Carolina. Coaches interested in being on the Carolina Crown Coaching Staff, please submit the following form by March 1, 2020.
CAROLINA CROWN COACHING STAFF APPLICATION FORM