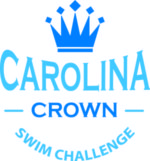 The fifth annual Carolina Crown Swim Challenge will be held on Saturday, April 27, 2018 at the Mecklenburg County Aquatic Center in Charlotte, NC. The meet features top 15-18 year-old athletes from North Carolina and South Carolina divided into four teams.
The Carolina Crown is a long course meet with athletes invited to participate based on performance during the 2018-2019 short course season.
2019 Carolina Crown Psych Sheet
2019 Carolina Crown Meet Information
Selected athletes who wish to attend – whether an automatic qualifier or a consideration qualifier MUST SUBMIT AN APPLICATION FORM AND MAIL A CHECK FOR $80 TO THE ADDRESS BELOW BY 6:00 PM, APRIL 3, 2019.
CAROLINA CROWN APPLICATION FORM
If not enough automatic qualifiers submit applications by April 3, those on the consideration list will be selected until a maximum of 250 athletes in the combined 15, 16, 17 and 18 year old age groups have been chosen. Consideration athletes were selected based on being in the Top 75 (combined NC/SC) 2018-19 short course rankings in the events being contested. Lists are based on swimmer ages as of April 27, 2019.
Please make out the check for $80 to "North Carolina Swimming" and mail to: Carolina Crown Challenge, 6766 Chauncey Drive, Raleigh, NC 27615. Please identify the athlete that the check is for. Only the checks of athletes selected to the final Carolina Crown roster will be cashed. The meet fee also entitles participating athletes to attend the Carolina Swimposium on Saturday morning at the Fairfield Inn, three blocks from the pool.
Questions about the application and registration process can be emailed to: 01silversurfer@bellsouth.net
CONSIDERATION QUALIFIERS – AGE 15
CONSIDERATION QUALIFIERS – AGE 16
CONSIDERATION QUALIFIERS – AGE 17