THE LOCATION OF THE 2021 CAROLINA CROWN CHALLENGE HAS BEEN CHANGED TO AN INDOOR FACILITY AT THE FORT MILL YMCA AQUATIC CENTER IN FORT MILL, SC. – 971 TOM HALL ST. FORT MILL, SC 29715.
GOOGLE MAPS LINK TO THE FACILITY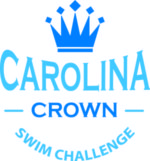 The 2021 Carolina Crown Swim Challenge will now be held at the Fort Mill YMCA at the Complex in Fort Mill, South Carolina on Saturday, April 24. The meet will be hosted by South Carolina Swimming and will feature top age 15-18 swimmers from North Carolina and South Carolina.
Link to Livestream of Carolina Crown Meet
2021 Carolina Crown Meet Announcement
Click the links below to view the team rosters: