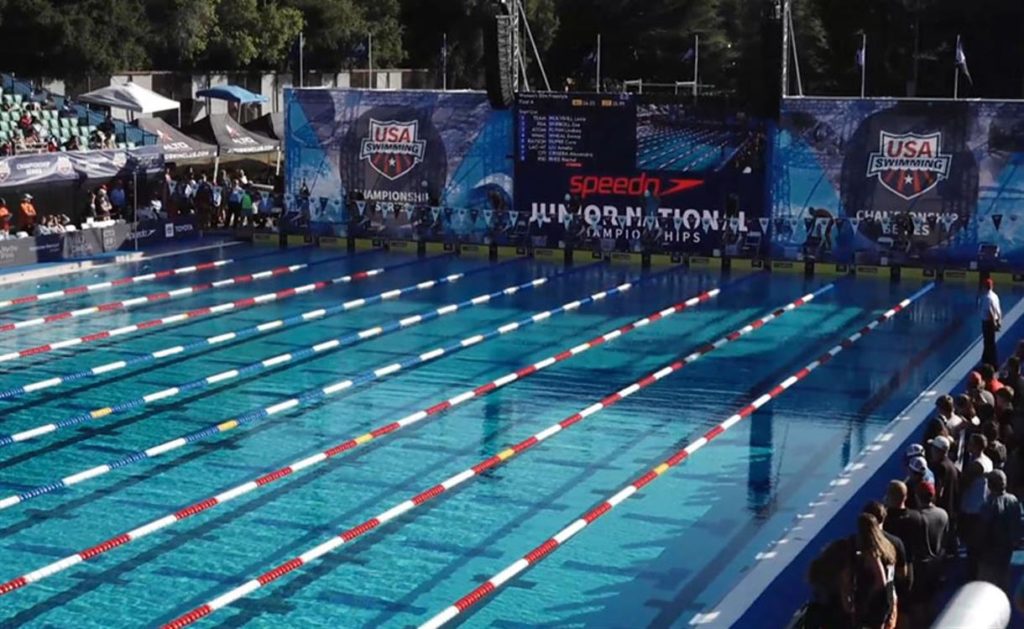 SwimMAC Carolina claimed the team title as the Speedo Junior National Championships came to a close Saturday night at the Avery Aquatic Center on the campus of Stanford University.
SwimMAC tallied 554.5 points over the five-day meet to run away with the combined team trophy. Dynamo Swim Club finished second with 461 points, followed by the Mason Manta Rays in third with 217 points. SwimMAC also claimed the men's title with 334.5 points, while Dynamo and Long Island Aquatic Club tied for the women's title with 221 points apiece, only one point ahead of SwimMAC's 220.
NCS Swimmers had several top eight finishes during the week, including first place finishes by Jack Walker (MAC) in both the 200 free and 400 free, and a first place finish by Tim Connery (MAC) in the 200 IM. Other NCS swimmers with top eight finishes included Grace Rainey (MAC), Morgan Razewski (MAC), Katie Rauch (ATOM), Sam Hoover (NCAC), Ellie Marquardt (ATOM), Hugh Svendsen (MAC), Baylor Nelson (MAC) and Lindsay Flynn (ATOM).
SwimMAC also had several top eight relays, including a first place finish by the team of Jack Walker, Tim Connery, Hugh Svendsen, and Baylor Nelson in the 4×200 free relay. The SwimMAC women's 4×100 free relay also grabbed a second place finish with the ATOM women's 4×100 free relay close behind them in fourth place.
Below is a re-cap of top finishes by NCS individuals and relay teams.
Men's 200 Fly
Place
Final
Ethan Schneider
MAC
3
B
Women's 100 Breast
Place
Final
Grace Rainey
MAC
5
A
Kaylee Hamblin
MSA
7
B
Desirae Mangaoang
MAC
7
C
Men's 100 Breast
Place
Final
Tim Connery
MAC
6
A
Jack Meehan
ATOM
1
C
Sam Hoover
NCAC
7
C
Women's 800 Free
Place
Morgan Razewski
MAC
8
Summer Eaker
MAC
17
Men's 800 Free
Place
Owen Lloyd
NCAC
9
Logan Zucker
MAC
13
Jami Rzepecki
MAC
21
Women's 200 Back
Place
Final
Katie Rauch
ATOM
4
A
Maddy Flickinger
MAC
6
B
Lisa Whitmire
ATOM
6
C
Men's 200 Back
Place
Final
Baylor Nelson
MAC
4
B
Hugh Svensen
MAC
2
C
Women's 100 Free
Place
Final
Lindsay Flynn
ATOM
2
C
Ellie Marquardt
ATOM
5
C
Men's 100 Free
Place
Final
Jack Walker
MAC
4
A
Tim Connery
MAC
5
A
Sam Hoover
NCAC
8
A
Garrett Boone
ATOM
6
B
Men's 400 IM
Place
Final
Logan Zucker
MAC
3
C
Baylor Nelson
MAC
6
C
Owen Lloyd
NCAC
8
C
Women's 4×100 Relay
Place
MAC – A
2
Janie Smith
Kensley Merritt
Maddy Flickinger
Elizabeth Sowards
ATOM
4
Lindsay Flynn
Katie Rauch
Ellie Marquardt
Liza Whitmire
MAC – B
11
Summer Eaker
Morgan Razewski
Ellie Vannote
Faith Hefner
Men's 4 x 100 Relay
Place
MAC – A
2
Jack Walker
Boyd Poelke
Hugh Svendsen
Tim Connery
MAC – B
14
Jackson Davis
Cam Abaqueta
Chase Allison
Logan Zucker
Women's 400 Free
Place
Final
Ellie Marquardt
ATOM
3
A
Summer Eaker
MAC
2
B
Faith Hefner
MAC
6
C
Men's 400 Free
Place
Final
Jack Walker
MAC
1
A
Jack Meehan
ATOM
2
C
Women's 100 Fly
Place
Final
Ellie Vannote
MAC
6
B
Madeline Menkhaus
MAC
8
C
Men's 100 Fly
Place
Final
Tim Connery
MAC
6
A
Boyd Poelke
MAC
7
B
Men's 4 x 200 Free Relay
Place
MAC – A
1
Jack Walker
Hugh Svendsen
Tim Connery
Nelson Baylor
MAC – B
6
Boyd Poelke
Chase Allison
Logan Zucker
Jami Rzepecki
NCAC
15
Owen Lloyd
Sam Hoover
Zac Cairns
Peter Bretzmann
Women's 200 Free
Place
Final
Ellie Marquardt
ATOM
8
B
Faith Hefner
MAC
3
C
Kensley Merritt
MAC
8
C
Men's 200 Free
Place
Final
Jack Walker
MAC
1
A
Hugh Svendsen
MAC
5
A
Women's 200 Breast
Place
Final
Grace Rainey
MAC
4
A
Emme Nelson
MAC
8
B
Men's 200 Breast
Place
Final
Tim Connery
MAC
5
A
Women's  4×200 Free Relay
Place
MAC – A
3
Faith Hefner
Kensley Merritt
Morgan Razewski
Elizabeth Sowards
MAC – B
5
Summer Eaker
Janie Smith
Ellie Vannote
Sarah Barton
ATOM
13
Ellie Marquardt
Katie Rauch
Liza Whitmire
Jessica Flynn
Women's 200 IM
Place
Final
Eliza Whitmire
ATOM
1
C
Men's 200 IM
Place
Final
Tim Connery
MAC
1
A
Baylor Nelson
MAC
4
A
Jack Meehan
ATOM
7
A
Women's 1500 Free
Place
Summer Eaker
MAC
7
Morgan Razewski
MAC
11
Women's  50 Free
Place
Final
Lindsay Flynn
ATOM
3
A
Janie Smith
MAC
2
C
Men's  50 Free
Place
Final
Garrett Boone
ATOM
5
B
Jack Walker
MAC
7
B
Men's 800 Free
Place
Owen Lloyd
NCAC
9
Women's  4×100 Medley Relay
Place
MAC – A
3
Maddy Flickinger
Grace Rainey
Ellie Vannote
Elizabeth Sowards
ATOM
11
Katie Rauch
Liza Whitmire
Ellie Marquardt
Lindsay Flynn
MAC – B
13
Kensley Merritt
Emme Nelson
Madeline Menkhaus
Janie Smith
Men's  4×100 Medley Relay
Place
MAC – A
4
Cam Abequeta
Tim Connery
Baylor Nelson
Jack Walker
MAC – B
8
Jackson Davis
Markus Wennborg
Ethan Schneider
Hugh Svendsen