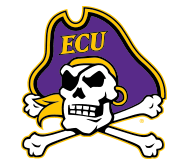 East Carolina University announced Thursday that it is reducing the number of its intercollegiate athletic programs by four, effective immediately. The action is being taken as part of the University's overall budget restructuring efforts and is part of a detailed analysis of ECU's athletics financial position during the ongoing COVID-19 pandemic.
Affected programs are men's swimming and diving, women's swimming and diving, men's tennis and women's tennis. The move affects 68 student-athletes and nine coaches. ECU previously led the American Athletic Conference with 20 sports (following the departure of Connecticut) and will now have 16 sports (9 women's, 7 men's).
Click here to read the entire article from ECU News Services.
The Save ECU Swim & Dive petition below has been initiated so the swimming community can voice its concerns. Please join North Carolina Swimming in petitioning ECU to reconsider this decision.