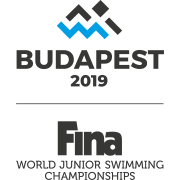 Three North Carolina Swimming athletes competed at the World Junior Swimming championships in Budapest, Hungary this past week with all three reaching finals in their events.
Earlier in the week, Charlotte Hook of the TAC Titans finished third in the 200 fly, bringing home a bronze medal. TAC teammate Claire Curzan earned three individual medals; a silver for her second place finish in the 100 back, a bronze in the 50 fly, and another bronze in the 100 fly. Curzan also led off the gold medal winning USA 4×100 medley relay in the meet's final event. Marlins of Raleigh swimmer Abby Arens made finals in the 200 breast on the last day of the meet. TAC Titans coach Bruce Marchionda was also part of the delegation, as a member of the Team USA coaching staff.
Click here for Complete Meet Results
Congratulations to all!