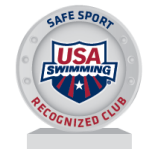 So what is YOUR CLUB waiting for?
A little more than a year ago, a group of NCS athletes took the initiative to produce a video on the importance of Safe Sport in their world of swimming. Fast forward to today and Safe Sport has to be the most talked about subject on the pool deck and for good reason. Nothing is more important than creating and maintaining a safe, healthy, and positive environment for our athletes and all members of USA Swimming. To that end, an important step is to become a Safe Sport Recognized Club.
Following on the heels of the Cape Fear Aquatic Club, High Point Swim Club recently received their badge of honor as a USA Swimming Safe Sport Recognized Club. According to HPSC CEO/Head Coach Aaron Reeves, "most clubs have many of the required elements already in place and it only takes a minimal effort to complete the process."
I want to thank both clubs for taking the initiative to upgrade their policies and procedures, and enhance the Safe Sport education of their athletes and all of their members on this very important program.
If you have questions, please contact the NCS Safe Sport and Safety Coordinator – Rebecca Landre (safetychair@ncswim.org) or visit the Safe Sport page on the NCS website.
For additional information on the Safe Sport Recognition Program click the following link:
USA Swimming Safe Sport Recognized Club Program
Dave Olack: General Chair, North Carolina Swimming