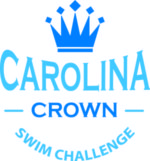 Congratulations Carolina Crown Swim Challenge qualifiers!
The 2021 Carolina Crown Swim Challenge will be held at the CSD Community YMCA in Clover, South Carolina on Saturday, April 24 and will feature top swimmers, ages 15-18, from both North Carolina and South Carolina. Participating athletes will receive team T shirts, sweat shirts, and swim caps.
Below are two lists; one list is Automatic qualifiers, and the other list is Alternate qualifiers.
Automatic qualifiers: athletes in the top 8 in NC or SC (by individual age 15, 16, 17, and 18 and gender) in any of the meet's events.
NORTH CAROLINA SWIMMING AUTOMATIC QUALIFIERS
Alternate qualifiers: athletes who are not Automatic qualifiers but are in the top 75 NC-SC combined standings (by individual age 15-18 and gender) in any of the meet's events.
NORTH CAROLINA SWIMMING ALTERNATE QUALIFIERS
All Automatic and Alternate qualifiers interested in participating are encouraged to submit the athlete registration form and entry fee ASAP. The $85 entry fee for those named to the Carolina Crown roster is non-refundable.
The registration fee will be refunded if an athlete registers and is not selected.
CAROLINA CROWN ATHLETE REGISTRATION FORM
The meet will be capped at 240 athletes with Automatic qualifiers receiving priority through March 24th. If the 240 cap is reached with Automatic qualifiers, registration will close at that point. If the 240 cap is not reached by March 25th, those on the Alternate qualifier list will be added to the roster – with priority based on registration date. After March 25th, once the cap is reached, registration will be closed to all Automatic and Alternate qualifiers.
Unless the 240 cap is reached earlier, the deadline for registrations is 10:00 pm on Wednesday, March 31, 2021.
Selections and team assignments will be posted by April 5, 2021.