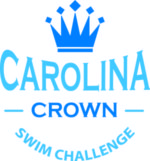 The 2021 Carolina Crown Swim Challenge will be held at the Clover/Lake Wylie YMCA in Clover, South Carolina on Saturday, April 24, 2021. The event features some of the top 15-18-year-old swimmers from North Carolina and South Carolina. Swimmers selected are divided into four teams in the long course competition.
Each team has one head coach and two assistants. If you would like to be one of the six North Carolina coaches named to the staff, please submit the coaching staff application form below.
Carolina Crown Coaching Staff Application Form
South Carolina Swimming will host the meet and has asked that we also post the following Meet Official sign-up form for officials interested in working at the meet.
Carolina Crown Meet Official Sign-up Form
Meet information will be posted shortly and athlete application forms will be posted soon after the end of the qualifying period, which is March 14, 2021.