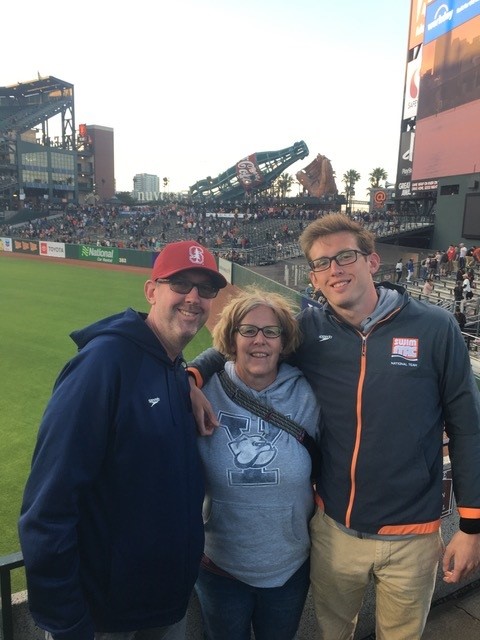 North Carolina Swimming is deeply saddened to report the death of Eric Rzepecki, aged 51, on April 23, 2022. A graduate of and swimmer at Virginia Tech (and rabid fan) and an Exercise Physiologist, Eric was best known in NC Swimming and throughout the southeast as a "system guru" with Colorado Timing Systems – handling sales, repairs, training and operations. Always willing to lend a hand, greeting you with his warm smile and dry sense of humor, he facilitated swimming at every level, quietly and calmly keeping meets running smoothly no matter the situation. He shared his talents with SwimMac Carolina, Queens University, Huntersville Family Fitness, Dynamo Swim Club in Atlanta, Bahamas Swimming Federation, Olympic High School, and various other clubs and LSCs in the Southeast. He is survived by his wife Kathie, swim & dive coach at Charlotte's Olympic High School, and his son Jami, a junior at Yale University where he is a member of the Mens Swim Team and former swimmer at SwimMac. Eric will be sorely missed as a husband, father, co-worker and friend.
A service for Eric Jon Rzepecki will be held on Saturday, June 25, 2022 at 11:00 at Heritage Funeral Home located at 3700 Forest Lawn Drive, Matthews, NC 28104. Immediately following the prayer service, there will be a memorial service at the Heritage Funeral Home. All friends and family are invited to a luncheon after the memorial service at Beverly Crest Club House, located at 7100 Hensey's Way, Charlotte, NC 28270, for a celebration of Eric's life.
In lieu of flowers, the family asks for donations to help Eric's son, Jamison complete his college education at Yale. A savings account for educational and living expenses over the next year has been set up. There are three ways to donate. First, you can donate through Zelle and that account is specifically linked to the phone number 704-277-5990. A second method is through Venmo @Kathrin-Rzepecki. Finally, you can donate through a check made out to Kathie Rzepecki and mailed to 4030 Lundale Court, Charlotte, NC 28273. We thank you for your support through this time and look forward to celebrating Eric's life with you.