VISION STATEMENT:  Leading the Nation in Development, Diversity, Achievement and Citizenship, in and out of the water.
MISSION STATEMENT:  Enriching the competitive swimming experience in North Carolina with Resources, Programming, and Leadership.
CORE VALUES:  Integrity, Respect, Safety, Commitment, Inclusiveness, Transparency, and Fun.
GEOGRAPHIC TERRITORY: The geographic Territory of NCS is the State of North Carolina except the Counties of Pasquotank, Camden, and Currituck. The territory within the boundaries of NCS may be subdivided for administrative or competitive purposes.  Such subdivisions may be defined by individual assignment of Club Members or by drawing geographic boundaries.
A SUBSIDIARY OF USA SWIMMING
North Carolina Swimming, a 501(c)(3) non profit organization, is a subsidiary of USA Swimming.  USA Swimming is the national governing body for the sport of swimming.  It administers competitive swimming in accordance with the Amateur Sport Act.  USA Swimming is committed to  excellence and the improvement of the sport of swimming.   USA Swimming has three core objectives:
Build the base of swimming participation
Promote the sport of swimming
Achieve competitive success
USA SWIMMING STRUCTURE
USA Swimming's 2,800-plus clubs and 400,000-plus athletes are divided into four zones.   The zones are further broken down into 59 Local Swimming Committees who are responsible for governing swimming in their individual regions. As our arms into the communities, these LSC's play a major role in the governance of our sport across the nation. North Carolina Swimming is one of these 59 LSC's and governs the sport within the borders of North Carolina.  Click the map below to see how the country is broken down by zone and LSC.
North Carolina Swimming is one of fifteen LSC's in the Southern Zone.  Each Zone has its own elected representatives from member LSC's who govern its activities, including camps, zone meets, and sectional meets.
WHAT NORTH CAROLINA SWIMMING DOES
North Carolina Swimming is responsible for organizing, supporting, and governing the sport of swimming in its borders.  North Carolina Swimming membership includes 10,000 athletes from over 70 year-round clubs throughout the state.  Responsibilities include
Promoting, processing, and monitoring membership of athletes, coaches, and officials
Scheduling and sanctioning competitions and other related activities
Training and certification of officials
Providing training opportunities for athletes, coaches, and volunteers
Recognizing performance for athletes, coaches, and volunteers
Promoting the sport of swimming within the LSC
NORTH CAROLINA SWIMMING EVENTS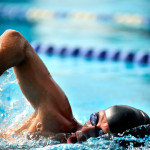 North Carolina Swimming offers a variety of sponsorship opportunities through various events during the year.  Year-round swimming is broken down into two seasons: short course season runs from September through March and the long course season runs from April through August.  Below is a summary of NCS events and programs for its athletes:
NCS 14 and under Short Course Championships
NCS Senior Short Course Championships
NCS 14 and under Long Course Championships
NCS Senior Long Course Championships
NCS Open Water Championships
NCS IMX Camp
NCS Select Camp
NCS Open Water Select Camp
NCS Zone Team
NCS Open Water Zone Team
In addition, NCS  holds its House of Delegates (HOD) meeting twice each year – in the Spring and Fall – to address policies, rules, and other governance issues.  Proposed legislation is voted on and NCS Board of Directors members are elected during the HOD session.  Over HOD weekend, training sessions and planning meetings for coaches, officials, and athletes are often part of the two-day agenda.
The Board of Directors are elected to represent NCS membership.  The body meets by conference call or during HOD meetings to address current NCS issues.  The group also meets once a year for a BOD retreat with an emphasis on strategic planning.
Every three years, NCS host a USA Swimming sponsored Swimposium, which includes clinics and workshops for athletes, parents, officials, and coaches.