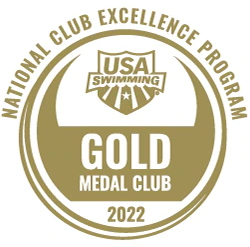 USA Swimming announced 200 clubs that will be recognized as Gold, Silver or Bronze medal clubs in the 2021-2022 Club Excellence Program.
Number one seated club, TAC Titans (TAC), posted 69,591 points to oust 7-year defending champion Nation's Capital Swim Club (NCAP) club by 9,215 points. TAC's top performers include 2020 Tokyo Olympian Claire Curzan along with Charlotte Hook and Lance Norris.
SwimMAC Carolina (MAC), Dynamo Swim Club (DYNA) and Carmel Swim Club (CSC) round out the top five for 2022.
The program recognizes USA Swimming's highest-performing clubs in the development of athletes ages 18 years and younger on an annual basis. In a new addition to last year, eligible athlete performances include both pool and open water swims.
North Carolina Swimming clubs not only had two of the top three ranked clubs in the country with the TAC Titans and SwimMAC Carolina but also had three clubs that were recognized as Silver medal clubs – North Carolina Aquatic Club (NCAC), Mecklenburg Swimming Association (MSA), Marlins of Raleigh (MOR) and three clubs recognized as Bronze medal clubs – YMCA of the Triangle Area Swim Team (YOTA), Sailfish Aquatics (SAIL), and YMCA of NW North Carolina Riptyde (TYDE).
In conjunction with the USA Swimming Club Excellence program, USA Swimming will honor 15 clubs as 2022 Podium Clubs. To qualify for Podium Club, a USA Swimming member club must achieve Gold Medal club status for four-consecutive years. Both the TAC Titans and SwimMAC Carolina are among those reaching this elite status.
Click here to view the complete 2022 Club Excellence Program results.
Click here to read the entire USA Swimming article.