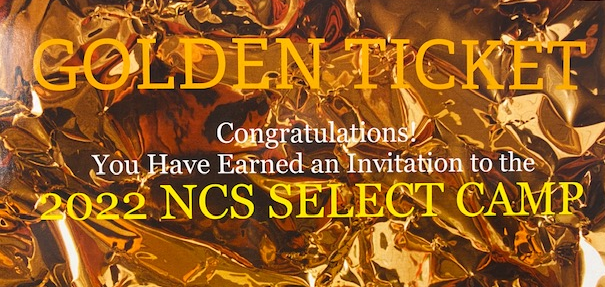 Congratulations to the 117 NCS Swimmers who earned Golden Tickets as qualifiers for the 2022 NCS Select Camp. The camp will be held at the Greensboro Aquatic Center on Saturday April 9th. Swimmers earned their Golden Tickets by finishing in the top five of their age group in events contested at the 2022 NCS Age Group Short Course Championship meet this past weekend.
Click the link below to view the Select Camp qualifiers.
Please register no later than March 10, 2022 if you have qualified and plan to attend the camp. Additional qualifiers may be added later based on performance in distance events not contested at the Age Group Champs meet. Those events include the 10U 500 free, the 11-12 1000 free, and the 11-12 1650 free.
Click the link below to register.
NCS SELECT CAMP REGISTRATION FORM
Registration deadline is March 10th, 2022 for those who qualified at Age Group Champs. Late registrations will be allowed for additional distance event qualifiers.
Because expenses are incurred prior to the application deadline, there are no refunds.